Potty Pink
£24.95
FREE DELIVERY
Delivery time 3-5 working days
Secure Shopping
Free delivery
Fast delivery
Data protection
Top customer service
Secure payment with SSL
Encryption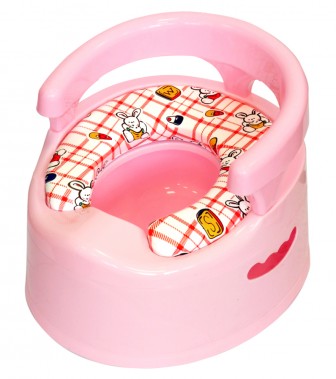 Product details
Potty Pink
Material:
• Duroplast (sturdy construction)

Dimensions:
• length: 34 cm
• width: 30 cm
• height: 27 cm

Features:
•potty with removable inner bowl
• comfortable seating
• padded seat, removable and easy to clean
• stable for a secure hold

Care instructions:
• easy to clean using any household products
• easy to care for

For toddlers and their loving parents and grandparents.

A child's first experiences with the potty are always an important milestone. Whether in their kindergarten class or a familiar home environment with mom and dad, their first steps are always special for everyone. For this reason, we support this major step into a new developmental stage with our lovingly designed and child-friendly toilet seats. The padded seat makes sitting easier and is individually removable. The detachable inner bowl is washable, so it is quick and easy to clean. The backrest and hand grips make for a secure hold. We are happy to join with families in this important process and wish all little ones an enjoyable time with our child's potty seat.
Similar products
Matching products